Featured Fan
May's Featured Fan is Rich Brownstein. Rich had this to say about being a Blazers fan:
Dedicated Blazers fans can be found all over the world. Some fans can even be found in the most anti-Blazers territory of all: Los Angeles! We recently caught up with one particular Blazers devotee who not only flaunts his love of the Blazers while residing in the heart of Lakerland and Clipperville, he even named his international corporation after his hometown heroes.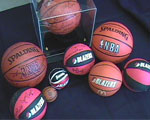 Forty-year-old Rich Brownstein has been a Blazers fan since their birth, when he was seven. He grew up in Portland, attending Wilson High School and graduating from Reed College in 1985. With his family's season tickets, Rich even had the thrill of attending the 1977 Championship Game.
In 1989, Rich and his brazen Blazers pride moved to Tinsel Town to start a career in the entertainment industry. Once in L.A., he founded Trailblazer Technologies, Inc., which eventually became the parent of The Transcription Company, Hollywood's largest transcription service, transforming millions of words each day from hundreds of videotapes into meticulous, indexed, time coded transcripts. Another subsidiary of Rich's TrailBlazer Technologies is The Captioning Company, which has live closed-captioned for everything from NFL football to the Rose Bowl Parade to CBS Marketwatch.
TrailBlazers Technologies' hundreds of clients include every major movie studio, each television network, and such non-entertainment customers as Microsoft Corp., the Simon Wiesenthal Center, Bausch & Lomb, the Centers for Disease Control, and the Reagan Foundation.
As you might guess, the Internet plays a crucial role in the business. It is not only used to deliver transcripts by e-mail, but also, increasingly, to transmit raw footage from production companies arriving in digital format. TrailBlazers Technologies' website,
www.transcripts.net
, is also critical to the Transcription Company's marketing and client communications.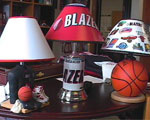 As if naming a corporation after his Blazers isn't enough, Rich's large Hollywood office is a veritable shrine to his team! Walls, desks, bookcases, tables and even windows are adorned with amazing Blazers memorabilia. "I decorated my office with Blazers collectibles just to have a little fun," he says with a playful smile, "and to instill the team atmosphere in my company culture." As an example of "a little fun," every transcript that is sent out from his company is accompanied by a little bag of Kosher candy and a Blazers trading card. "Some clients – who are Laker fans – now have hundreds of Blazers cards," he says shamelessly. "It's my little way of needling the locals!"
Hanging out at the Transcription Company offices takes you back to your freshman year in the dorms. Dozens of playful young men and women rush around the Transcription Company Building, doing a dance that keeps Hollywood humming. On any given day you can find Vice Presidents of major network studios wandering through the halls looking at the Blazers paraphernalia.
As a special guest of Rich, you might see the actual scoreboard control panel from the Memorial Coliseum that was used in the championship game. You could stumble over several signed basketballs, including one signed by the Championship team, and you would see the front page of the Oregonian and Rich's ticket from the championship game, which are now together on a laminated plaque. Blazers wallpaper and more than one hundred Blazers hats trim the ceiling of his entire office.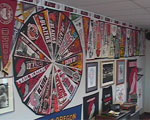 Travel further into Rich's inner sanctum you'll see Blazers nesting dolls, dozens of Blazers books and magazines, thousands of trading cards, candles, license plates, golf balls and tees, watches and clocks, belt buckles, pennants, bobble heads, blankets, ties, cups and glasses, Blazers Barbies, a shower curtain and many plaques and artwork, including a signed Bill Walton Hall of Fame painting, several rare lithographs, a kinetic wire Clyde Drexler sculpture that dunks a basketball, and a hand-drawn Bart Simpson, drawn for him personally by Simpson's creator (and Portlander) Matt Groening, with Bart saying "Go Blazers … Lakers Suck!" Some other odd collectibles are an orthodontic retainer decorated with the Blazers pinwheel and a hand crocheted Blazers yarmulke. Yes, he's your typical fan! By the way, Rich got his start collecting Blazers memorabilia in third grade when his teacher gave him with a signed basketball that she got from her neighbor in her apartment building – all-star Sidney Wicks. From that point on, he was hooked.
With family here in Portland, Rich does come back from time to time, but has yet to catch a game in the Rose Garden. He does however watch every game on the NBA's DTV. No matter where he goes though, he's sure to spread Blazers love. From L.A. to Jerusalem, every person who meets him knows he's a loyal Portlander, a true Oregonian, and a steadfast Blazers fan. And we're proud to have him!