Welcome To
Blazer Bilia!
Home of
The World's Largest Portland Trailblazer Memorabilia Collection!
&
The World's Largest NBA Memorabilia Collection
INDEX
None of the items are for sale.
The collection is not for profit.
It is just a collection.
Is this, in fact, the biggest Portland Trailblazer or biggest NBA or even biggest basketball memorabilia collection in the world?
The Portland Trailblazers seem to think it is the biggest Blazer collection in the world, as a spokesperson stated in the 2004 article below.
As for the other claims, I have searched the Internet for a larger NBA and overall basketball collection to no avail.
If you know of a bigger collection than mine, please let me know and I will gladly remove the appropriate claim.
Enjoy,
Rich
Three Ways To Communicate About the Collection
Want to Contribute an Item?
If you have any wonderfully special or unique items that you would like to add to the collection, please send them to:
256 S. Robertson Blvd., Suite 2807
Beverly Hills, CA 90211-2898
(An e-mail "heads-up" here would be great, too!)
Your item will be specially acknowledged here on a separate page.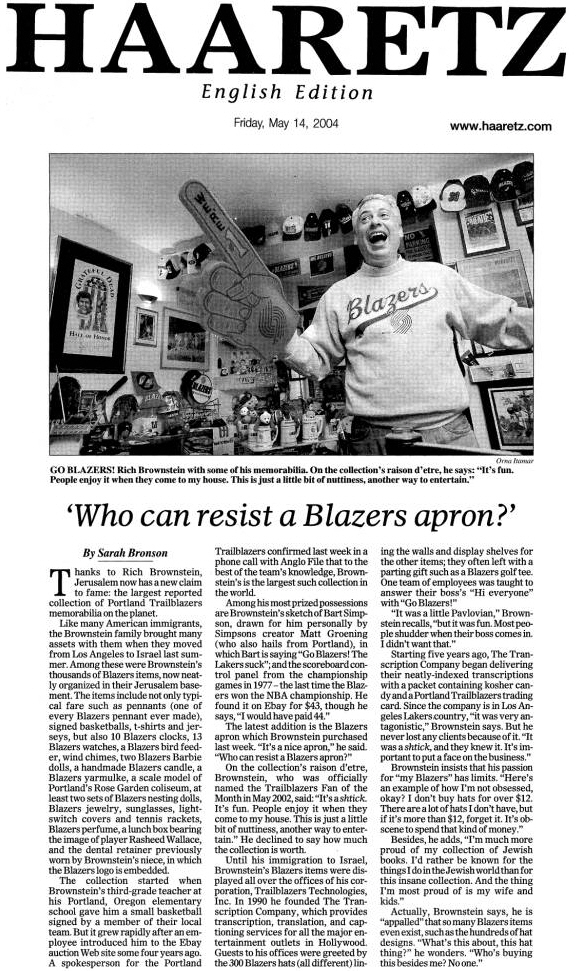 Portland Trailblazer Memorabilia - NBA.COM - 5/6/02